Instructors
Denis Cheung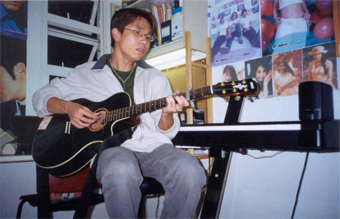 Present: Po/church keyboard, pop/church guitar, pop/church ukulele, pop music theory, music production instructor, Music Director of Maranatha Music School
2001-Present: singer/instrumentalist at MusicDreamer Live! Café, specialized in pop guitar, pop piano and contemporary singing in Chinese and Cantonese.
Music Teaching Experiences
Previously pop keyboard instructor at Hark Music School, Atticgroove Music School, Echo Music School and private pop keyboard instructor
Major Performing Experiences
– Winner of Rhapsody 2002 and NTU Talentine 2002 group category
– Finalist for NUS KE7 Chinese songwriting competition for 2001 and 2002
-Interviewed by various local radio stations such as YES993, Power883 and performed on air featuring unplugged music
– Performed in various YES933 outdoor events such as 2002 Anniversary celebration at Star Cruise, 2002 School Concert at Ngee Ann Polytechnic, 2002 Christmas Celebration at Hardrock Café and has worked with Taiwanese artists such as Leehom Wong (王力宏) , Jiang Mei Qi (江美琪) and local artists such as Terence Chao, Tay Ping Hui, Zhou Chong Qing, Superstar winners Daren Tan & Diya (for Sony & Sony Ericsson Press Conference) etc.
– Pianist for Leelian Chua and Ric Low for company event Dow's Night of Splendor at Guang Zhou
– Pianist for Hong Shao Xuan Xinyao performance at Singapore Arts Museum in May 2008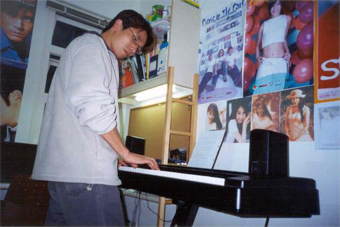 Music Leadership Experiences
1998-1999 – Youth Choir Music Director at Chinese Christian Fellowship, Mauritius
1999-2000 – NUS Temasek Hall Choir Tenor section leader, NUS Temasek Hall Xinyao Vice Chairman
2000-2001 – NUS Temasek Hall Xinyao Chairman, NUS Temasek Hall Productions Music Producer
2001-2007 – Grace Jubilee Presbyterian Church chief pianist
Instructors
Dominic Cai, Saxophone/Vocal/Pop Piano Instructor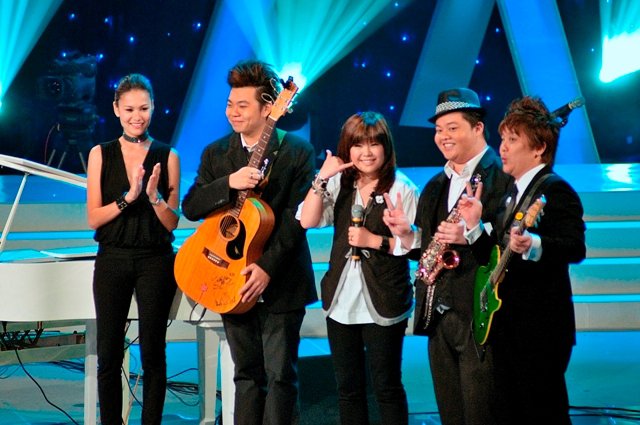 "There's nothing I enjoy more than helping someone do things they didn't think they could do, says Dominic Cai, musician and music educator. Since he began learning music 23 years ago, Dominic has always appreciated the value of a good teacher. Having taught saxophone, vocals and piano to teenagers, adults and even a couple of retirees, Dominic believes age is no barrier to progress. Speaking from experience, he quips, "I have seen kids barely inches taller than my saxophone on a stand, walk up to it and actually play their first note. Kids never fail to surprise me with their enthusiasm and desire to learn."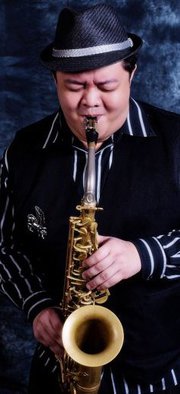 Thanks to his classical piano and theory training, Dominic has been teaching himself how to play the saxophone, pop piano and vocals for 14 years. He then went on to perform to bigger and bigger audiences, from playing at school concerts to local entertainment hotspots such as Timbre. Not too long ago, Dominic's band, the Singapore Char Siew Baos! made it to the semifinals on Channel 5's talent show, One Moment of Glory! By then, Dominic had already been performing regularly in public for 2 years. "Performance is a journey," he shares with a smile, "and I believe in helping my students take strong and steady first steps."
Instructors
George Lee, Classical Piano/Classical Music Theory/African Percussion Instructor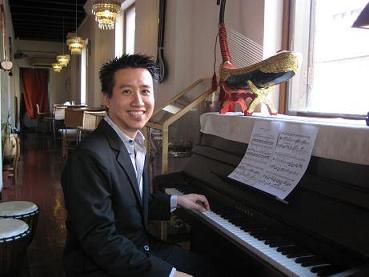 From as young as 8, George started embarking on his musical pilgrimage. The first musical instrument he learnt was the piano and when he was in ACS, he went on to learn to play the flute. In school, he was selected for MEP (Music Elective Programme) and was the college pianist during his JC days. Having such deep passion for music, he subsequently enrolled into NTU-NIE Music Programme and taught Music in secondary schools. For the last 15 years, he has been consistently teaching piano of which some of his students completed their Grade 8.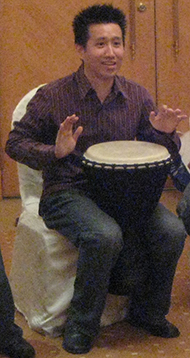 George taught Classical Piano, Adult Piano and conducted Classical Theory classes in Cristofori Music School for 8 years. He has been the Music Director of Global Sounds Music School for 4 years and is still teaching piano to both children and adult learners. He also trains school students as well as corporate sectors to play the African Drum and African Marimba and is registered with the National Arts Council as a trainer for the African Drum Circle. His interest remains in imparting his music knowledge and skills to the next generation as well as ardent music lovers.
Instructors
Justyn
Instructors
Ivan
Instructors
Ruby Chen, Vocal Instructor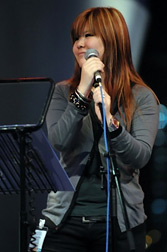 Ruby started out as a choir girl in school and has diligently honed her skills through the years.
Being from a musical family, she has always found joy through singing in front of people and opportunity came knocking at her door. Chance meets talent and it exploded into a great series of events, and she calls them milestones.
She has performed at places like Riverine at Robertson Quay, Timber 2, Em by the River (Gallery hotel), Esplanade Waterfront, private corporate dinner and weddings.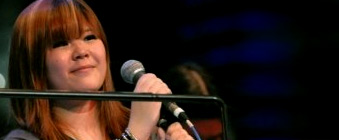 Ruby cites Celine Dion, The Carpenters, Mariah Carey and Frank Sinatra as her main influences. Be sure to hear a touch of jazz, pop, sentimental tunes at her gigs, comprising of both Chinese and English numbers. Many have been amazed by her incredible tonal quality and warmth in her voice; among which includes credible producers and artiste managers.
As an instructor, Ruby is always ready to share her insights and music knowledge with her students. She believes everyone has the ability to sing well, with a heart of passion.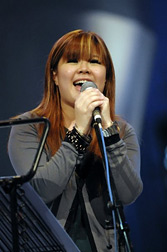 Relevant Experiences
– Riverine Pub at Robertson Quay
– Jalenpeno Peppers at The Singapore Flyer
– Club 5 at Park Royal Hotel
– Em By the River – The Gallery Hotel
– Short Performance gig at Timbre.
– Mandarin Pop gig at Homeclub
– Singapore Heritage Festival 07 at Suntec City
– Wedding gig at Changi Village Hotel, Swissotel, Fullerton Hotel, GardenAsia
– Party gig at Grand Copthorne Waterfront
– Chinese New Year gig at Ai Tong Primary School
– 2009 Esplanade on the Waterfront – Chinese New Year Firecrackers Event. Together with Singapore Cha Siew Baos
Instructors
Si Tong Lim, Vocal/Pop Piano Instructor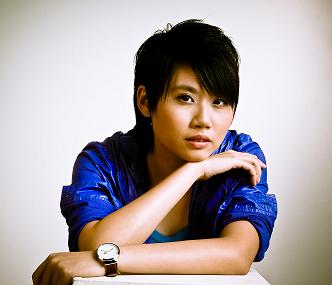 Si Tong took an interest in singing at the age of 15, and furthered this passion by participating in many singing competitions. In 2006, Si Tong started professional pop vocal training under renowned music instructor Nicole Lai (黎珈仪), and took up pop keyboard and classical piano lessons with Peng Chi Sheng (冯启胜), and has achieved Honours in many certified examinations under London College of Music(LCM) and ABRSM.
In 2009, Si Tong released her first EP 《说一次你爱我》, and as a singer-songwriter, she has also written and sold lyrics for local drama and telemovie series'(namely 《过好年》and《皇帽瑞狮喜迎虎》) theme and sub-theme songs. Thereafter, she was invited by Esplanade to perform her own compositions at their Huayi Festival 2010 during the Chinese New Year at the Esplanade Concourse.
Having performing experiences in many events and local cafes, Si Tong has definitely achieved the skills of performance, and this has always been part of her teaching syllabus. Being a patient instructor, Si Tong believes in giving ample time for her students to learn and grow musically, encouraging them on consistent learning, and preparing them for greater challenges.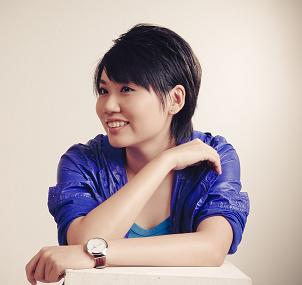 "With the love for music, I would definitely love to carry on spreading my knowledge, skills and experience to benefit more music lovers!" – Si Tong
Major Performances and Events
2008-2009:
– Showcased at COMPASS 2nd Musical Showcase.
– Guest Performer for Launch of Singapore National Paralympics Team 2008, and presenting the theme song during the celebration ceremony.
– Appeared on U Weekly magazine 《名人家居》.
– Appearance on Malaysia TV8《八八六十事》, and various local radio stations such as 100.3FM and Redifussion, for "Love Infinity 2008" Promotion.
– Performed at various travel fairs, and local cafes.
– Released an EP 《说一次你爱我》.
– Demo sharing and interview on radio station 100.3FM.
– Performed and shared original music works at Esplanade Library.
2010:
– Written and sold lyrics for local drama and telemovie series' theme and sub-theme songs.
– Performed and shared own compositions during Huayi Festival 2010 – Local Singer-Songwriter at the Esplanade Concourse.
– Main Pianist for "Living with Betsy Teo, Peiyi and Si Tong" unplugged concert at the Arts House, playing more than 10 songs on the piano.
– Keyboardist for local artiste, Tay Kewei, during NEA Eco Music Challenge 2010 promotion.
Music Teaching Experience
2010-Present:
– Freelance Pop Vocals and Pop Keyboard Instructor at Maranatha Music School and Intune Music School.
– Conducted basic songwriting and lyrics writing workshops for NEA Eco Music Challenge 2010 at various primary, secondary and tertiary schools such as Raffles Girls' Primary School, Raffles Institution, Pioneer Primary School, NAFA, Rosyth School, Ang Mo Kio Secondary School, Hwa Chong Institution, Damai Primary School, Tanjong Katong Girls' School and Cedar Girls' School.
– conducted basic songwriting course at Chong Fu Primary School.
Music Qualifications Achieved
– LCM Grade 8 Popular Music Vocals – Distinction
– ABRSM Grade 5 Music Theory – Distinction
– ABRSM Grade 4 Classical Piano – Distinction
– Diploma in LCM Popular Music Vocals in Performance
– MOE-approved AMIS (Arts & Music Instructor Scheme) Instructor
Instructors
William Chow, Vocal/Pop Guitar Instructor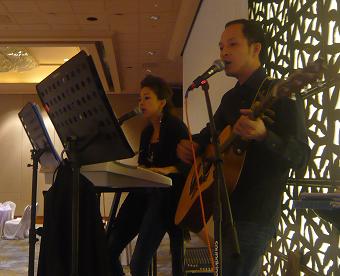 Performing Experiences:
Malaysia:
– 2000 Astro Talent Quest Top 5 Finalist
– Performed at Storm Café n pubs as unplugged singer (2002)
– Performed at Shining Star Café as unplugged singer (2002-2003)
– Performed at Nouvo Disco, Standard Chartered Diner and Dance (2003)
– Performed at Rockmount Pub as lead vocalist (2003-2004)
– Performed at Codered Pub: Nomadnation Band as lead vocalist (2004-2005)
– Performed at Roackaro Pub: Nomadnation Band as lead vocalist (since 2004)
– Nomadnation Band: Newcom Canto Rock Competition Champion (2005)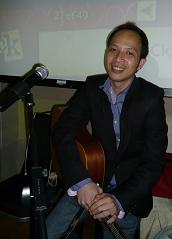 Singapore:
– Performed in UOB annual Dinner & Dance functions (2007-2010)
– Performing in various wedding dinner functions in Singapore (2008 – current)
– Echo Music vocal instructor (July-Sep 2010)
– Maranatha Music School vocal instructor (Oct 2010 – current)